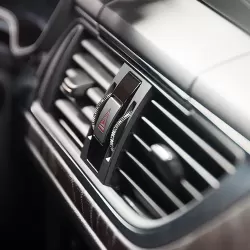 Here in North Texas, summer sneaks up on us and it stays hot for months with sometimes scorching temperatures. Having your vehicle's air conditioning system in tip-top shape is a requirement to stay comfortable during your commute. Whether your car air conditioner is blowing hot air, doesn't blow any air at all, blows cold air sometimes, or your dual zone car air conditioner is only half working, or just making weird noises, our air conditioning technicians can find the problem and get it solved.
Without regular maintenance, the average air conditioner loses about 5 percent of its efficiency every single year. Why? Because just like any mechanism, all of the little parts deteriorate over time, whether it's the hoses, fittings, or seals. When left unchecked, these small matters can cause massive damage, including irreparably harming more expensive parts, such as your compressor or evaporator.
Servicing Vehicle Air Conditioners
At Quality Brakes and Alignment, we specialize in servicing air conditioners in all vehicles, no matter what make or model. Cars, Trucks, SUVs - our vehicle air conditioning services can ensure that you're comfortable during your daily commute, on your summer road trip, and running errands with the kids. Our vehicle air conditioning services include both regular maintenance and repairs:
Thorough inspections by qualified, experienced technicians
Operational checks of your compressor and other components
Replacement of hoses, seals, fittings, and other parts as needed / applicable
Refrigerant evacuation
Vacuum tests
Vehicle Air Conditioning Recharges
New air conditioning installations
Regular yearly maintenance
Keeping You and Your Vehicle Cool and Comfortable!
We also understand that not every car or every air conditioning system needs the same thing, which is why we offer comprehensive packages to get your vehicle in tip-top shape and you on the road faster than ever. Whether you want just a basic checkup in the spring, or you're looking to repair or replace your existing air conditioning systems, we can help.
Don't let your air conditioner deteriorate any further. Contact Quality Brakes and Alignment in Cleburne, Texas today to learn how we can keep your vehicle cool and comfortable year-round, or stop by for an estimate!