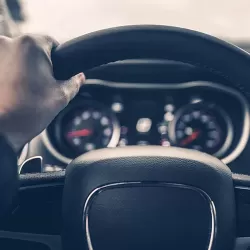 To avoid costly repairs and replacements, Quality Brakes and Alignment recommends having your steering and suspension inspected and your alignment checked annually. Normally, the steering wheel should have no greater than a quarter inch of "give". More than that would mean something is worn or loose and it needs fixing. If you notice a 'looseness' in your steering column, do not ignore it! You could lose control of your steering after a period of time.
Bring your car or truck by Quality Brakes and Alignment for a full diagnostics run of your steering column if you notice any difference in your steering! Quality Brakes and Alignment in Cleburne, Texas provides the following steering products and services:
Tie Rod Ends
Tie Rod Sockets
Idler Arm
Pitman Arm
Drag Link
Center Link
Steering Knuckles
Steering Dampeners
Steering Stabilizer
Power Steering Gear Box
Manual Steering Gear Box
Rack & Pinion Steering Gear
Adjusting Sleeves
Suspension and Chassis Work
A car's chassis is the most integral part in the final construction of any vehicle apart from the engine itself. As well as act as the canvas onto which all of the vehicle's parts are attached, it also provides invaluable structural integrity which prevents the car from collapsing into itself under large amounts of strain.
The most important feature of an automobile chassis is the way in which it anchors all of a car's key components, including the suspension system, wheels and car body. Contrary to popular belief, the painted body that surrounds the exterior of the car is not actually a part of the chassis but another part that depends on the chassis to stay functional. If the chassis were weakened, it may play a huge safety risk for both the car and its driver. This is why it is important to ensure that your car is structurally sound every six months.
Bring your car by Quality Brakes and Alignment to ensure your car's chassis is sound. Quality Brakes & Alignment can provide the following suspension and chassis services and products:
Control Arm
Bushings Ball Joints
Tie Rod Ends
Tie Rod Sockets
Adjusting Sleeves
Idler Arm
Pitman Arm
Sway Bar
Links Bushings
Radius Arm Bushings
Pivot Arm Bushings
King Pins with Brass Bushings
Coil Springs
Leaf Springs
Struts
Strut Mounts
Drag Links
Center Links
Track Bars