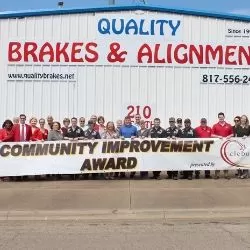 Welcome to Quality Brakes and Alignment in Cleburne, Texas where our service is top-notch and satisfaction is our number one priority! Quality Brakes and Alignment specializes in Brakes, Wheel Alignment, Suspension and Brake Repair. Quality Brakes and Alignments has been providing automotive repair services since 1994.
Since we use only the best parts and highly trained technicians, bringing your vehicle to us with your brake and front-end problems is a great idea! Why take it anywhere else when you can get great quality and service for a great price. Our goal is to repair your vehicle's problem the right way the first time at a fair price without making unnecessary repairs – Our specialty is honesty!
Extend The Life of Your Vehicle
We specialize in brake repair, vehicle alignments, shocks and struts, and scheduled mileage maintenance packages. At Quality Brakes and Alignment, we offer complete car care for all vehicle makes and models. Our Multi-point inspection provides a clear picture of what you need to extend the life of your vehicle.
From the brake pedal to hydraulic brake fluid, brake master cylinder to power brake booster, drum brakes to disc brakes and electronic anti-lock brake sensors, our technicians know every part of your brake system inside and out.
Listen to Your Brakes
Remember, regular brake inspections should be part of your vehicle's ongoing maintenance, helping to ensure its safety and reliability. In fact, we recommend that you have them inspected at least once a year or if you experience any of the following:
Low or spongy brake pedal
Hard brake pedal
Brake warning light that stays on
Continuously squealing or grinding brakes
Any time you notice these symptoms (or any others), it's a good idea to have your brakes checked. At Quality Brakes and Alignment, if our inspection reveals they do require repair, we will explain exactly what's required, what's optional and provide you with a written estimate before any work is done.