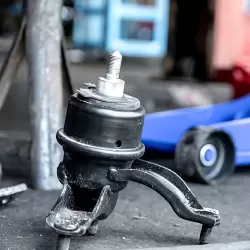 Quality Brakes and Alignment can inspect and repair automotive engine and transmission mounts. Engine and Transmission Mounts may have as many as three functions. First, it is an attachment point for a part or system to the chassis. Secondly, it often acts as an isolator – keeping noise and/or vibration from being transferred to the driver and passengers. In some cases, it may also be an adjustment point to keep a component in proper alignment.
Most mounts are made of steel and rubber. Time, heat, automotive chemicals and vapors will deteriorate the rubber. Because mounts are often out of sight, they are ignored when a vehicle is serviced. Slowly, the rubber will deteriorate and the vibrations begin to be felt.
If these problems aren't addressed, the results can range from annoying noises to binding and ultimately, destruction of components. If you notice an unusual vibration in your vehicle, come on by Quality Brakes and Alignments for immediate service before your car is damaged!