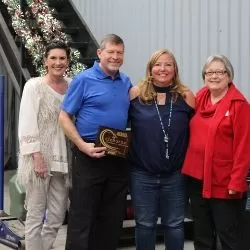 Quality Brakes & Alignment has been in business since 1994 – owned and operated by Joel Henslee. Joel was born, raised, and schooled in Cleburne. Joel went to TCJC for Business and Accounting and was later hired on with Mitsubishi Dealers as a Parts & Service Manager for nearly eight years.
Tired of traveling, Joel's uncle approached him to partner with him on a brake and front-end shop in hometown Cleburne. They purchased a building and land that was previously used as a brake and front-end shop. The doors opened in August of 1994 with Joel and one technician, who had been with him for over seven years.
Our Trusted Team
After 16 months, Joel hired another technician and now there are four technicians that make Quality Brakes & Alignment a pleasure to visit for repairs, inquiries, or just stopping by to say hello.
Quality Brakes & Alignment has three technicians that are certified, personal, interested in finding your complaint, fixing your problem, and following up with a Quality Control Test Drive. We are very good at finding problems that cause noises.
Quick and Easy Repairs
Quality Brakes & Alignment's main goal is fixing the customer's complaint & problem the first time. Quality Brakes & Alignment wants all of it's customers happy, the vehicle repaired correctly at a fair price & in reasonable time.
Most repairs are done in a few hours or less depending on the services needed. We take appointments and try to accommodate walk-in customers that they or their vehicle cannot wait due to safety or personal reasons. Your happiness is important to us. If we feel your vehicle may still be covered under warranty. we'll suggest you take it to a dealership.
We use top-quality parts to insure long & dependable service. We want to see you again, but not for the same problem. We want to see your family, friends, & neighbors, too. We are not the cheapest repair facility nor are we the most expensive, but we are interested in finding and fixing your problem or questions.
---
Check out our Shop Profile in Shop Owner Magazine