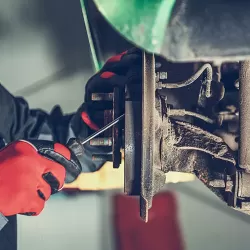 At Quality Brakes and Alignment, we run a full diagnostics on your brake system to identify any possible problems. A methodical diagnostic routine will save time, parts, and money, to catch problems accurately the first time. A routine diagnostics check can even identify problems before the arise, so if you notice any change in your braking system, bring your vehicle by Quality Brakes and Alignment today!
Brake Pads
Maintaining optimum friction pad depth is necessary to your braking system. Replacing your brake pads periodically prevent damage to your rotors, and causing further damage to your system. If you begin to notice a squeaking sound when you apply the brakes, it's time to change your brake pads.
Brake Shoes
Just like pads, shoes require replacing as friction wears away at your brakes over time. Neglecting to change the shoes in your braking system can result in damage to your car, so don't forget them too! Quality Brakes and Alignment is a fast and affordable solution to brake optimization.
Wheel Cylinders
After a period of time, the wheel cylinders will start to leak. When they do the braking force can diminish and, in extreme cases, could cause loss of braking. If you begin to notice over time that your brake petal is a lot lower than usual, bring your car in to Quality Brakes and Alignment immediately before your brake shoes are damaged.
Brake Hoses
The brake hoses are the flexible hoses that run from the car to the wheels, and require ample movement during driving. It is important to have these hoses inspected and replaced regularly to prevent wear and tear associated with driving.
Calipers
Calipers are an integral part of the braking system, and in part, hold the brake pads in place. They require regular maintenance to preform at optimum efficiency, so let one of our experienced technicians check your brakes today!
Steel Brake Lines
The inside of your car holds some of the key parts of your braking system, steel brake lines included. Should a brake line burst or leak, come in to Quality Brakes and Alignments for immediate attention.
Brake Hardware
We specialize in brakes and alignments. We know the parts, the people, and the process to give you and your car the best care possible. Come to us with any brake hardware questions and concerns and we will assist you!
Axel Seals
Axel seals are the handy little parts that keep fluids in your car. If you notice your car is leaking, it could be the seals in your brake system, which would require immediate attention. Don't ignore warning signs from your car that you might be at risk of brake failure; Quality Brakes and Alignment have the expertise to diagnose and fix almost any problem.
Brake and Wheel Systems
Axel Bearings
Wheel Bearings
Rotors Drums
Wheel Studs
Wheel Nuts
CB Axels
U Joints
ABS Brakes
Wheel, Hub, & Bearing ABS Sensors
Master Cylinder
Don't overlook one of the most important parts of your car: your brakes! Keep your family safe and sound with routine brake services at Quality Brakes and Alignment.
Brakes and Bearing Services for RV's, Utility Trailers, Boat Trailers, and Horse Trailers
When you're dealing with an RV or utility, boat, or horse trailers, you need somebody who knows what he or she is doing. And the average mechanic working on four-door sedans is not experienced enough to handle the brakes and bearings commonly found on these types of vehicles and trailers.
At Quality Brakes and Alignment, we specialize inspecting, repairing and replacing brakes and bearings. By choosing a company that dedicates a portion of its services specifically to these, you're assured that the services you receive are the best of the best. And we're so sure that you'll be happy with our work, we offer a 100% satisfaction guaranteed.
Our brake and bearing services for RV's, utility trailers, boat trailers and horse trailers include inspecting, removing, repairing and installing:
Electric brakes
Disc Brake Rotors
Hydraulic brakes
Brake controllers
Brake drums
In addition to this, we also provide all three necessary services for electrical brake systems, commonly found on your favorite trailers:
Inspection
Our experienced staff will inspect every aspect of your brake system, looking for worn or saturated shoe linings and loose or broken magnet arm parts. We also thoroughly look over the actuating arm or lever, adjuster springs, mounting springs and return springs, as well as inspect drums for too-deep wear marks and grooving on the armature.


Cleaning
We clean each part carefully to ensure that each works as it should once your brake system is back together.


Adjustments
Proper spacing between the shoes and drums is essential, and for electric brakes, that means you need regular adjustments.
For all of your brake and bearing services, Quality Brakes and Alignments in Cleburne, Texas can help!